How the PHAST Measures Can Help You
Don't start from scratch!
State and local health departments around the country are seeking or trying to develop ways to measure their activities and services. But they're incredibly busy. Data recording takes so much time, effort, and technical support, which are all in short supply.
To meet this need, PHAST worked with practitioners to develop a tool for measuring activities and services. This tool uses a standardized set of measures of chronic disease prevention, communicable disease control, and environmental health protection services. We are constantly updating those measures based on insights we hear from practitioners.
By using an established set of measures and an interactive tool, not only do health departments save time and effort, they are also able to compare data across regions and states, helping them and other partners throughout the field understand what works best.
Track progress toward targets
PHAST measures enable public health practitioners to track progress of their efforts toward targets set by HealthyPeople2020 or CDC's Winnable Battles.
Make progress toward accreditation
For departments interested in public health accreditation, we are working with the Public Health Accreditation Board (PHAB) to align PHAST measures with PHAB performance measures.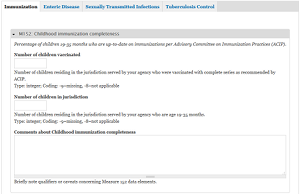 Use a brand-new data-capture tool
PHAST's data-capture tool, now under development, will allow local health departments to enter data using PHAST measures on areas such as chronic disease control. This online system for entering and reviewing data will be integrated with a user-friendly data-visualization dashboard. Features under development include a mechanism for importing existing spreadsheets to help users avoid having to duplicate data entry.
SNEAK PEEK: If you'd like to see the beta version of PHAST's new data capture tool in action, send us an email and we'll set up a demo.
Tell your stories
We need stories to advance health equity and population health, ensure public health funding, and make relevant policy change. Using a tool for comparing and understanding standardized data helps public health tell the stories we need to tell.
PHAST and public health practice partners are working together on developing ways to turn your data into compelling and useful stories that make the case for public health, including why services are needed, where they are lacking, and how they can be more equitably distributed.
What You Can Do
Health departments and researchers are expressing interest in using the PHAST measures now to collect and use data, or in sharing their expertise with PHAST to make sure these tools meet their needs.
Whether it's a one-time action or something ongoing, we've created a few ways you can get involved:
Be an early adopter—and leave your mark
Early adopters are using PHAST measures to collect and examine data now regarding prevention activities. We're developing the dashboard tools simultaneously, meaning what these early adopters tell us they need is shaping the final products and helping PHAST refine the measures. If you're eager to get started and want these tools shaped to your needs, consider being an early adopter.
Share your data
Sharing data helps public health professionals track our progress and identify gaps. As a first step, PHAST is seeking immunization data. Data for toddlers' immunization completeness are not consistently available, but are urgently needed to raise immunization rates as well as prevent and respond to outbreaks of vaccine-preventable diseases. Contributing your immunization data will help us achieve that together. We also encourage you to share existing data for any PHAST Measures domains, including chronic disease prevention, communicable disease control, and environmental health protection. 
Be a dashboard tester
So, maybe you never got picked to test-drive an early-model DeLorean and check the flux capacitor on its dashboard. Testing an early version of the PHAST dashboard might be very slightly less exciting, but populations will still be around in 30 years. How many DeLoreans do you see on the road today? Test the PHAST dashboard instead.
Lend your measurement or data expertise
You know how to apply data and measurement in public health management and practice. You have and share ideas about using data effectively. The ability of this tool to have a wide-scale impact on the quality of public health activities and services and, ultimately, on population health, depends on PHAST hearing your ideas. Whether it's a one-time conversation or longer involvement, we'd love your help.
Be a champion
Nobody has to tell you how and why data sharing and standardized measures are so important—perhaps now, more than ever. But we know we're only going to have an impact if we build momentum together and share our data. Whether it's contacting one health department or public health leader you know well, connecting with a national organization, or writing an opinion piece about sharing standardized public health data, your skills and connections can help us advance this work together.
Share the view from public health practice
We've interviewed public health leaders and practitioners throughout this process, and gathering input never stops. If you have insights, views, opinions, or experiences you want to share from your work in public health practice, we hope you'll contact us.
PHAST and your other colleagues want to hear from you. Please share your ideas.